1. What is Invisalign?
Invisalign – as the name suggests – is an orthodontic system that has made its name in the industry for being "invisible". However, Invisalign is not completely invisible.  It is a functional and aesthetic option that uses a series of clear plastic aligners to straighten and realign teeth without the obvious physical appearance of brackets and wires. It is in many cases more aesthetic than conventional braces.
Invisalign was founded in 1997 as an innovative orthodontic product and continues to expand its presence in the dental industry through system upgrades, improvements in aligner materials and their patented technology. Its popularity with consumers and an ever-increasing number of Invisalign providers around the world is a testimony of the system's reliability in helping doctors and patients achieve good aesthetic and functional outcomes.
However, it is important to note that Invisalign is merely a product and a treatment option. It does not dictate your treatment plan—your dentist does.
2. How does Invisalign work?
Your doctor would first have to make an impression of your teeth. The information could be registered via a digital scan or physically registered by making a rubber impression. The scanned images/rubber impressions and bite registrations will be sent directly to the orthodontic technicians in San Jose, Costa Rica. After digital models are created, the proprietary Invisalign algorithm is applied to the model and a clinical simulation will be sent to your dentist. This simulation – known as ClinCheck – will allow your dentist to explain to you how long the treatment will last and what the final result will be.
Once the treatment plan is approved, the laboratory will print the set of aligners. No two aligners are the same, and they are set to incremental movements equaling 0.25mm tooth movements.
3. Does it mean that I can have a nice smile with just 2 pieces of plastic?
Most cases (especially in cases which require teeth to be rotated or pulled down) may need additional small tooth coloured composite attachments bonded onto certain teeth. These attachments aid the aligners in retention or active movement. They may make Invisalign slightly more noticeable to the naked eye. However, these are rarely a problem for patients and it is not a reason to decline treatment. In fact these attachments are essential in ensuring a good outcome. Do speak with your dentist and discuss your expectations to ensure your preferences are being considered and addressed.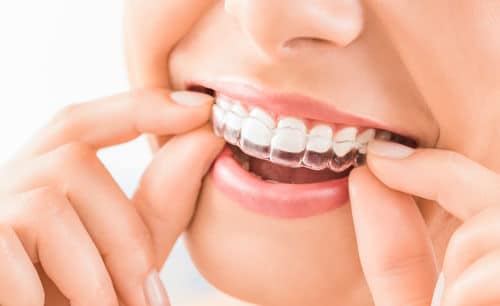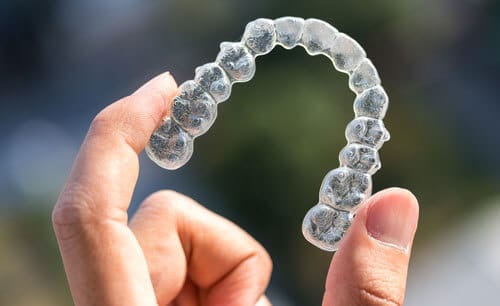 Pros of Invisalign
Aesthetics: your aligners (even with the attachments or in some cases elastics) are more aesthetic compared to conventional braces
Comfort: no wires and sharp corners like with conventional braces
Fewer dental visits than conventional braces
Easier to maintain oral hygiene: patients are able to remove the aligners and brush and floss normally. Less risk of gingival inflammation due to plaque build-up
Cons of Invisalign
Compliance: in order for the aligners to work well, the patients must wear the aligners daily for up to 20-22 hours. The only time patients remove the aligners is when they are eating or brushing their teeth.
Change in diet/lifestyle: patients are advised against drinking fizzy, sugary with their aligners on as the pooling of the beverage can cause decay. With the stipulated minimum duration of aligner wear, patients may find that they would have to modify their dietary habits. Again, we stress that patient compliance and motivation is key to the success in the treatment.
4. Can I use the last set of aligners as my retainers?
Unfortunately not. The aligner material is different from the retainer material: they are more flexible and softer and not wear resistant. The aligners are designed for a short duration of wear and hence would not be as durable as the retainers, even though they look almost similar. In fact in some patients, the protective layer would start to wear away, producing a frayed edge on the aligner when it is being worn for more than two weeks.
Retainer options are the same as conventional braces treatments: you can choose to have either fixed or removable retainers. Some dentists may even advocate both if it is necessary for your case.
In conclusion…
Invisalign is a reliable product that is suitable for almost all orthodontic cases. However, case suitability, treatment plans and durations are still determined by your clinician. When in doubt, do communicate with your dentist. In addition, the invisalign website has a lot of information dedicated to patient education and information. So do ensure you are comfortable with the expectations and treatment plans set out by your invisalign provider!