No dental visit should be unpleasant. Our dental specialists are trained to ensure every clinical procedure is painless, safe and effective for both children and adults. Apart from being highly meticulous and gentle, our dentists are also equipped with modern technology, to ease any potential discomfort your dental treatment might entail. This allows us to provide painless dentistry, a common term for sedation dentistry and painless anaesthesia. 
Painless Injection: The Wand
It is understandable that some patients, especially children, get nervous at the sight of a needle and syringe. The truth is the needle is not what causes the main discomfort of an injection. Pain is mainly created by the pressure and volume of the fluid entering the tissues when it is injected too quickly into the gums. [1][2]
The Wand is a computer-controlled local anaesthesia (LA) injection system that provides a much more comfortable and measured anaesthesia delivery. [3][4] Its slim, non-threatening appearance and smaller disguised needles visually reduce any anxiety the patient may feel. [1]
More importantly, the automated timer allows for a slower and more even delivery of anaesthetic, totally eliminating the pain of fluid entry into oral tissues. [2][5]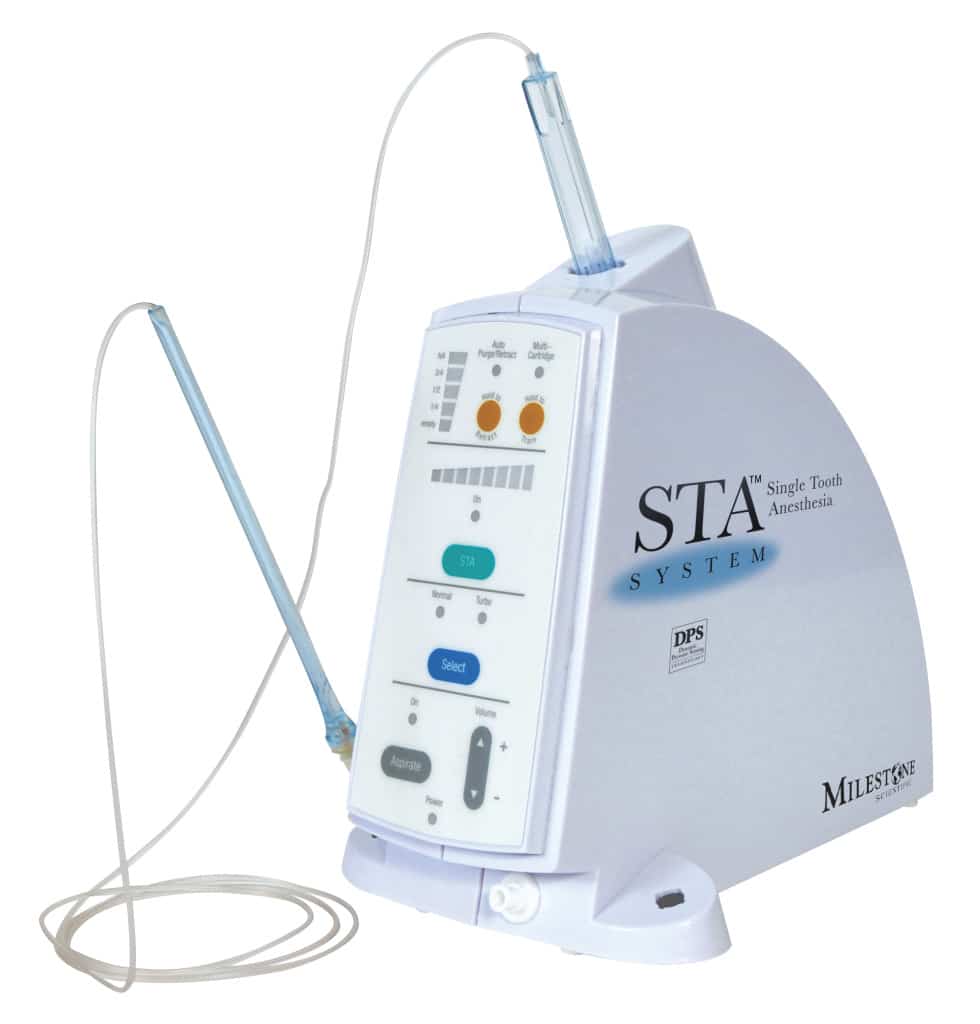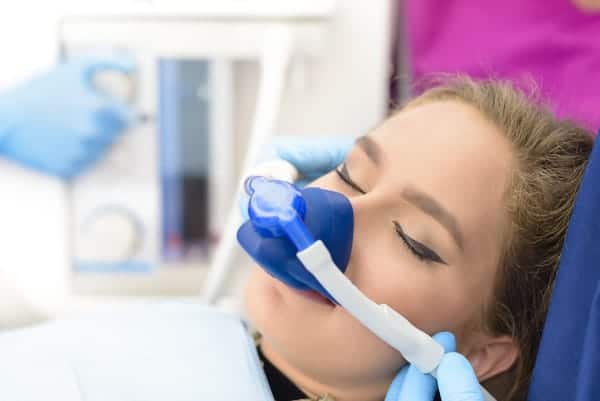 Inhalational Sedation
Nitrous oxide, or happy gas, is a form of relative analgesia often employed in children's dentistry.
The dental specialist utilises nitrous oxide through a custom nosepiece to produce a pleasant, calming effect. This reduces fear and anxiety and also increases the amount of anaesthesia a patient feels, enabling them to better tolerate injections or other potentially uncomfortable procedures.
Inhalational sedation is safe and reliable in the hands of a trained dental specialist, and its effects almost instantly wear off once the procedure is finished.
IV Sedation
Sometimes in adolescent or adult patients, a more profound state of calmness and relaxation is required, especially for procedures such as dental implant surgery, gum surgery or wisdom tooth surgery.
IV (Intra-venous) sedation induces this state of deeper relaxation to allow patients to cope with longer, more complicated procedures. To ensure optimal safety, this form of sedation is carried out by a certified anaesthetist who will monitor the patient throughout the duration of the procedure. The commonly used drug for IV sedation is benzodiazepine. Reversal is also quick and the patient can go home within the hour.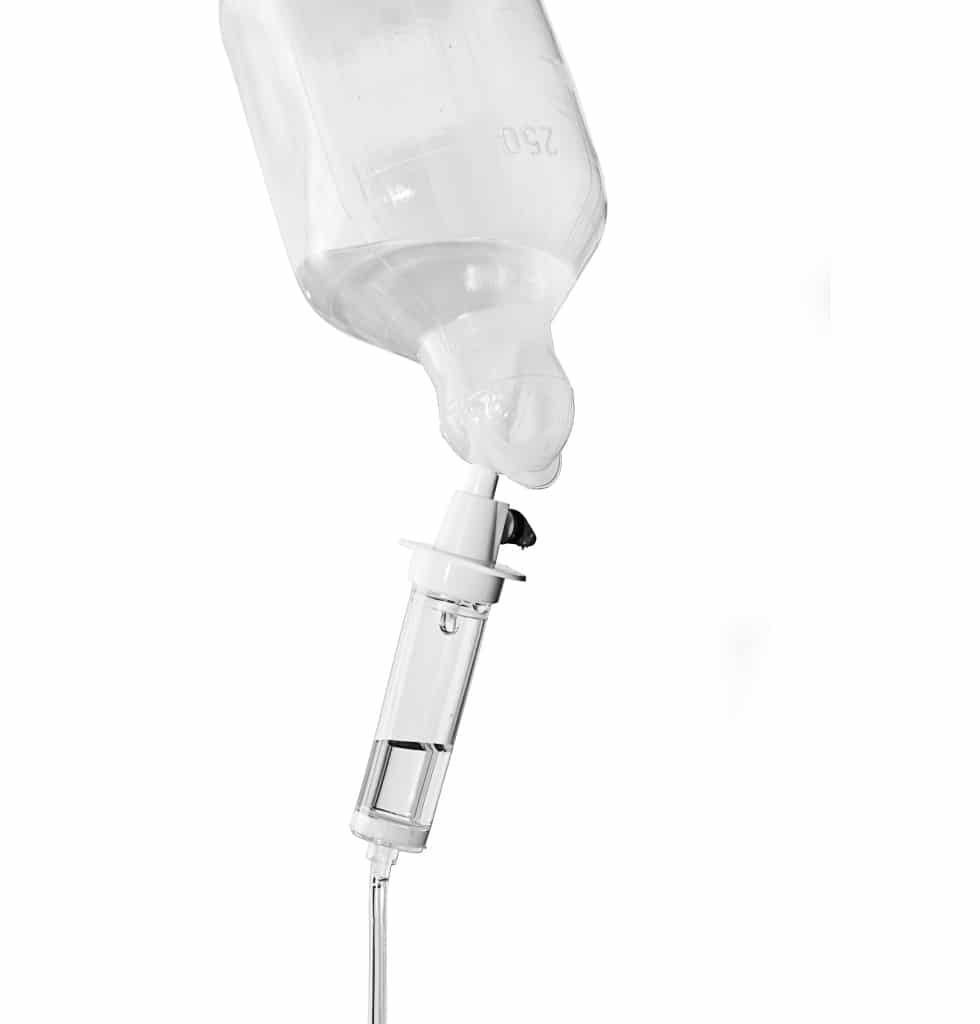 If fear of pain is holding you back from seeking dental treatment for your condition, you can be at ease knowing that there are various options available to minimise the pain you might feel during dental procedures. [6] It is always important to seek treatment early; delays in seeking care could sometimes aggravate the condition and call for more complex care.
Get Your Dental Appointment Today
And a new, improved smile
Other Dentistry Servics
References:
[1] Angelo Z. & Polyvios C. (2018) Alternative practices of achieving anaesthesia for dental procedures: a review. Journal of Dental Anesthesia and Pain Medicine, 18(2):79-88. Retrieved from https://jdapm.org/DOIx.php?id=10.17245/jdapm.2018.18.2.79
[2] Friedman, M.J. (1998) The AMSA injection: A new concept for local anesthesia of maxillary teeth using a computer-controlled injection system. Quintessence Int 1998:29:297-303. Retrieved from https://www.thewand.com/wp-content/uploads/2018/01/4-The-Wand_The-AMSA-A-New-Concept-for-Local-Anesthesia-of-Maxillary-Teeth-Using-The-Wand.pdf
[3] Friedman, M.J. & Hochman, M.N. (1997) A 21st century computerized injection system for local pain control. Compend Contin Educ Dent. 1997 Oct;18(10):995-1000, 1002-3; quiz 1004. Retrieved from https://www.ncbi.nlm.nih.gov/pubmed/9533309
[4] Beneito-Brotons R., Peñarrocha-Oltra D., Ata-Ali J. & Peñarrocha M. (2012) Intraosseous anesthesia with solution injection controlled by a computerized system versus conventional oral anesthesia: a preliminary study. Med Oral Patol Oral Cir Bucal. 2012 May 1;17(3):e426-9. Retrieved from https://www.ncbi.nlm.nih.gov/pubmed?db=PubMed&cmd=Retrieve&list_uids=22143722
[5] Chang et al. (2016) Relief of Injection Pain During Delivery of Local Anesthesia by Computer-Controlled Anesthetic Delivery System for Periodontal Surgery: Randomized Clinical Controlled Trial. J Periodontol. 2016 Jul;87(7):783-9. Retrieved from https://www.ncbi.nlm.nih.gov/pubmed?db=PubMed&cmd=Retrieve&list_uids=26991489
[6] Yen L.K.S. & Neelakantan P. (2014) Local Anesthetics in Dentistry – Newer Methods of Delivery. International Journal of Pharmaceutical and Clinical Research 2014; 6(1): 4-6. Retrieved from http://impactfactor.org/PDF/IJPCR/6/IJPCR,Vol6,Issue1,Article2.pdf