Veneers are laminates made to fit over the front surface of a tooth. They can be used to correct deficiencies in a person's smile, such as crooked teeth, yellow or discoloured teeth, chipped teeth, or teeth that are too short. If your teeth are too long or wide, they can be reshaped instead.
Veneers are considered a prosthetic device that is used in cosmetic or aesthetic dentistry. It gives the dentist the ability to create a Hollywood smile by making cosmetic and orthodontic adjustments to restore a single tooth or multiple teeth.
Dental veneers are translucent and can be customised to match your natural teeth colour, appearing very natural and real. If you are unhappy with the colour of your teeth, or if they are discoloured by tetracycline and fluorosis stains that teeth whitening cannot remove, veneers can also be customised to give you a brand-new white smile. These custom-made wafer-thin veneer shells are bonded to the front of the teeth to change their colour, size, shape and length.
Veneer teeth are made from medical-grade porcelain (ceramic) or resin composite materials.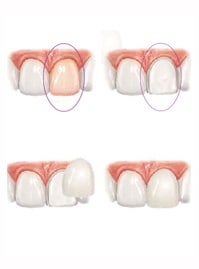 Porcelain Veneers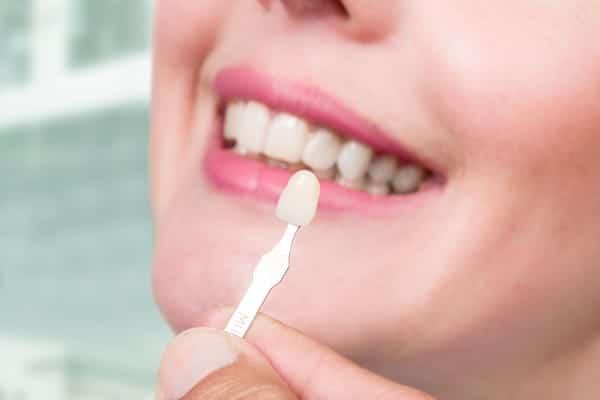 Porcelain veneers, Dental Veneers or Dental Porcelain Laminates are made of thin porcelain shells placed on top of your existing tooth to create the desired tooth appearance.
Porcelain veneers tend to be the more popular choice, as they are stainless and reflect light similarly to those of regular teeth, giving you a natural bright smile.
The process entails:
Full dental examination
Mock up or pre-design of your new teeth and smile would be shown to you
Teeth Preparation
A mould impression of your teeth is taken
Colour, design and translucency of your new teeth will be confirmed with you
Temporary plastic veneers of the new smile will be placed to wear home
Your custom-fitted porcelain veneers are produced in at the dental laboratory
Porcelain veneers are bonded when you are happy with the results
Veneers are permanent and are used to:
Whiten teeth due to discolouration
Close gaps between teeth
Straighten crooked or misaligned teeth
Change the shape or length of a tooth, that is uneven or irregularly shaped
Cover chipped or broken teeth
What Are The Advantages Of Porcelain Veneers?
Veneers are a permanent treatment, and because the porcelain veneers are especially custom-made and sculpted for each patient, it is nearly impossible to see a difference between a natural and a veneered tooth. Unlike your natural teeth, veneer teeth also resist staining from coffee, tea, red wine, cigarettes and many more. An ideal candidate would need to have overall good oral health and healthy gums, as well as no missing enamel or signs of periodontal disease.
Because veneers have so many applications, patients can enjoy the benefits of teeth whitening, orthodontic treatment, and dental crowns, all in one treatment.
Porcelain veneers are a component of the Smile Makeover at The Dental Studio.  It usually involves two or more visits, depending on the complexity of your smile makeover. Our dentists will suggest a suitable choice of veneers for you. Subsequently, you should also have regular professional maintenance of the porcelain veneers with your dentist, as veneers should be polished with a specially formulated, non-abrasive paste. With good care, veneers can last more than 10 years.
Direct Resin Veneers
The process involves adding a thin layer of resin (enamel-like, tooth colour) material to the teeth to reshape it or to close spaces and correct discolourations. It can be sculpted, hardened and polished to a high shine in one visit. Results are immediate and painless.
Maintaining Your Veneers
Porcelain veneers are beautiful and strong, but like your natural teeth, it should be taken care of.
The lifespan of the porcelain veneers will depend on the care you take. They can provide long-lasting cosmetic solutions.
Maintenance Pointers:
Use non-abrasive toothpaste
Avoid biting extremely hard substances such as ice cubes, hard candy, bones, bottle caps etc
Avoid food that can stain for instance coffee, tea, wine
Avoid nail biting
Wearing a mouth guard while playing contact sports or if you grind your teeth at night
Visit your dentist for regular dental care
Teeth Reshaping
This is achievable with minor trimming to the shape of the tooth to improve the appearance of your smile.
A tooth that is slightly too long can be corrected through this simple smile makeover procedure to match it to the rest of your teeth.  Teeth that are too big and square can be reshaped to create a softer or more feminine appearance for female patients.
As the reshaping is done within the enamel, the process is painless and immediate.
Get Your Dental Appointment Today
And a new, improved smile
Other Dentistry Services