Unable to smile or speak with confidence because of missing teeth?
Are you tired of having food stuck under your denture?
With dental implants, you have a permanent solution to restore appearance, function and speech, as well as eliminate all the discomforts associated with wearing dentures.
What Is A Dental Implant?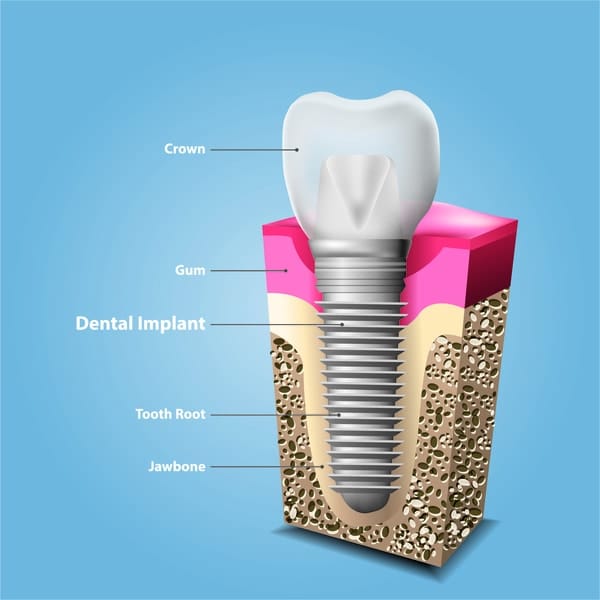 The dental implant sits in bone to give you a fixed solution that mimics a natural tooth.  Dental implants are made of titanium and placed in bone to replace the root of a missing tooth.
An implant-supported restoration looks, feels and functions virtually like a real tooth, improving your quality of life and allowing you to enjoy food better.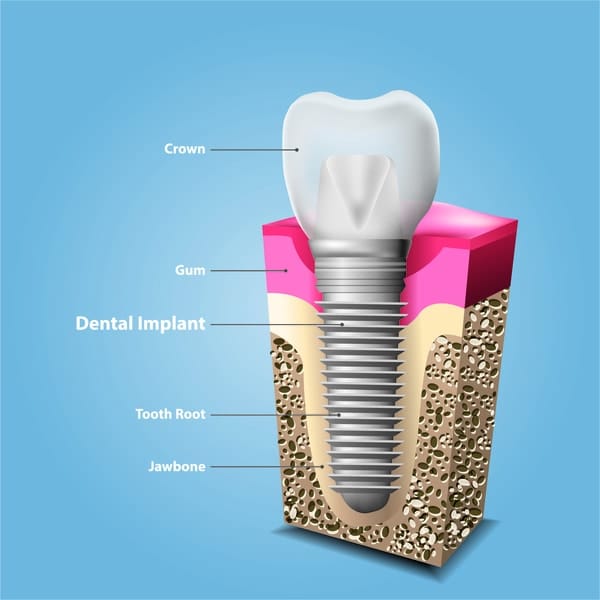 When You Should Consider Dental Implants
When a tooth is beyond repair and requires an extraction
When you have missing teeth
When the number of teeth you have are insufficient for a tooth-supported bridge
When your upper and lower jaws are edentulous
When dentures are loose or uncomfortable
Missing A Tooth?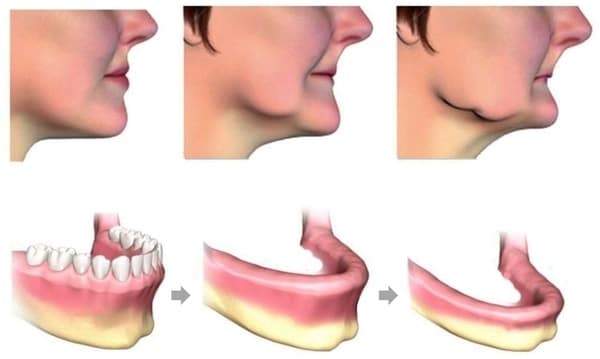 You might think that leaving the missing tooth space empty is not a big deal, but the consequences of not filling in the space in the long run can cause:
Adjacent teeth changing position
Shrinking of the jawbone, making the face appear prematurely older
Sagging face
A less appealing smile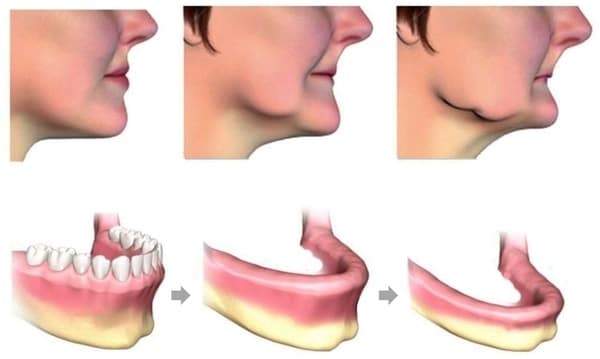 Are You Suitable For Dental Implants?
If you are healthy enough to have a tooth taken out, you are likely healthy enough to have a dental implant placed. There is no maximum age limit to who can receive a dental implant, as long as you are past puberty.
What Types of Dental Implant Restorations Are There?
There are many implant systems available in the market, but we choose only what we would place in ourselves and our family.
The Straumann system is a world leader in implant systems, with published survival rates backed by numerous multi-centre studies. The published 10-15 year survival rate of a Struamann implant is from 95-100%.
You can hover or click the images below to learn more about each type.
Implant-Supported Crown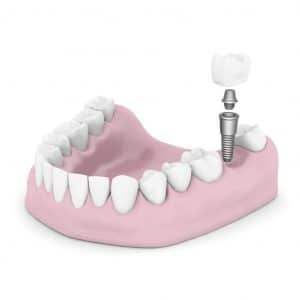 If you have a missing or failing tooth, a single dental tooth implant replacement has great benefits over the alternative options of a bridge or denture. The Process is simple and our patients feedback a positive experience. Clinical advances have allowed our clinicians to create implant-supported crowns that mimic nature and are almost indistinguishable from a natural tooth.
Implant-Supported Bridge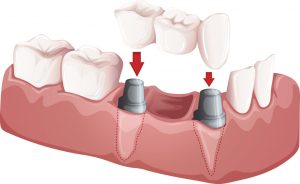 If you are missing more than one tooth in a row, the gap can be replaced with individual implants or by joining a few implants together to hold a bridge. The second option allows the treatment to be more affordable.
Implant-Supported Hybrid Bridge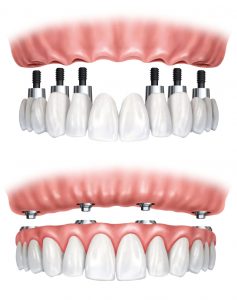 If you are missing all your teeth and thinking of a fixed solution where you no longer have to remove your denture to clean, the implant-supported hybrid denture is an excellent option. It will give you the confidence to speak without the fear of your denture dropping out and allow you to enjoy an apple and a steak again.

The pink portion of the hybrid denture replaces your lost gum and bone, reducing the need for bone graft and yet supporting your face at the same time to reduce wrinkles and droopy lips.
Implant-Retained Denture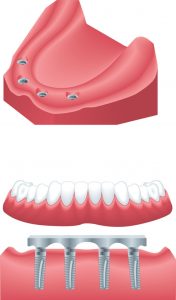 If you are missing all your teeth in a jaw and are losing confidence socially due to an unstable denture, this is a cost-effective option of replacing all your teeth. The denture is held firmly in place with a minimum of 2 of 4 implants. The feeling is as if your denture is fixed on to mouth. There is no more need for dental glue or having food trapped under the denture anymore.
These restorations restore or reconstruct our dentition to allow normal chewing function. They are used to reinstate aesthetics and appearance, as well as speaking function – giving you back the confidence to enjoy an active social life and enjoy your favorite foods.
What Are The Benefits Of Dental Implants?
Dental implants offer scientifically-proven benefits:
With tooth loss and dental use, your jawbone will start shrinking. Your jawbone can be preserved with dental implants
A permanent option for teeth replacement
Highly reliable with a good long-term success rate
Dental implant never decays
Regain proper chewing function
Restore appearance, self-confidence and self-esteem
Reduce visible ageing
Get Your Dental Appointment Today
And a new, improved smile
Other Dentistry Services