Today with dental implants, you have a permanent solution to restore appearance, function, speech and eliminate all the discomforts associated with wearing dentures. Dental implants are small titanium screws placed in bone to replace the root of a missing tooth.
The titanium dental implant becomes integrated with the bone in a process known as osseointegration. The abutment, and a crown or bridge, restore the missing part of the tooth/teeth above the gum.
You would realise that a dental implant supported restoration looks, feels and functions virtually like a real tooth, improving your quality of life and allowing you to enjoy food better.
You might think that leaving the missing tooth space empty may not sound too serious, but the consequences of not filling in the space in the long run can cause:
Adjacent teeth changing position

Shrinking of the jawbone, making the face appear prematurely older

A less appealing smile
CONSIDERATION
A tooth is beyond repair and requires an extraction

Missing teeth

The number of teeth is insufficient for a tooth-supported bridge

Upper and lower jaws are edentulous

Dentures are loose or uncomfortable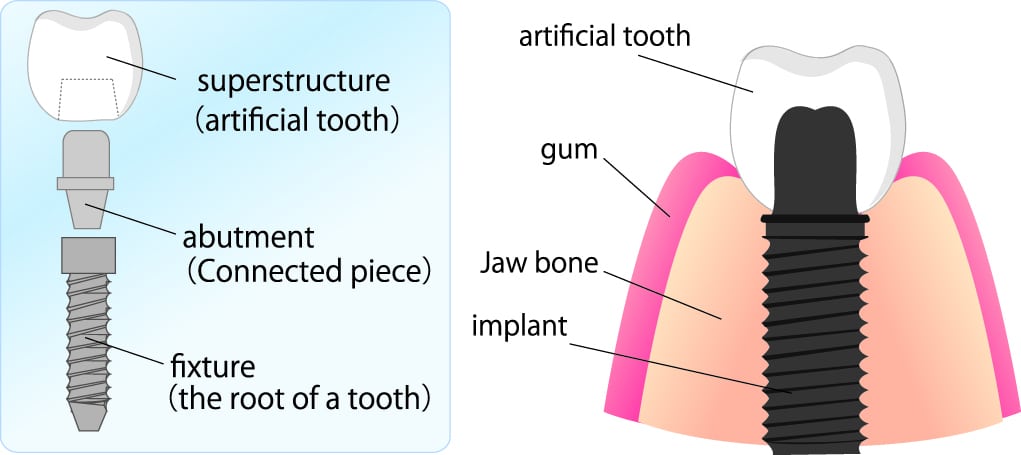 Suitability

If you are healthy enough to have a tooth taken out, you are probably healthy enough to have a dental implant placed. There is no maximum age limit to who can receive a dental implant, as long as you are passed puberty.
Patients with the following medical conditions must be carefully evaluated to determine his or her suitability for dental implants:
Uncontrolled diabetes

Steroid therapy

Connective tissue disorders

Bisphosphonate therapy
Types Of Dental Implant Restorations
The types of dental implant restorations include implant supported crown, implant supported bridge, implant-supported hybrid bridge and implant-retained denture.
These restorations restore or reconstruct our dentition to allow normal masticatory function. They are used to reinstate chewing function, aesthetics and appearance as well as speaking function.
Process Of Dental Implants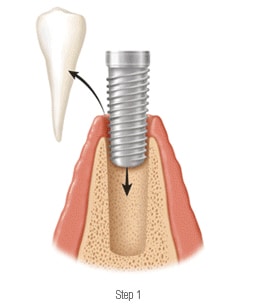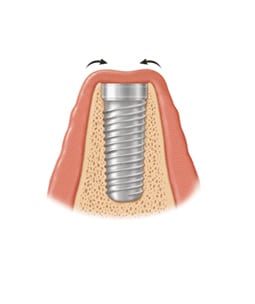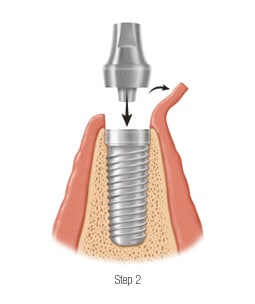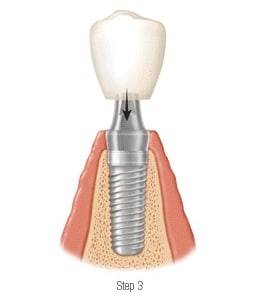 STEP 1: EXAMINATION – PREPARATION PHASE
During your first appointment, your dentist would perform a thorough examination to access your suitability for dental implant.
The quality and quantity of your bone would be evaluated.
Models and diagnostic wax-up, X-ray and CT-scans or Cone beam CT-scans examinations will also be carried out.
STEP 2: IMPLANT PLACEMENT – SURGICAL PHASE
The dental implant is placed in the bone in a simple surgery and is left to heal for 2 to 4 months.
The dental implant may be completely covered (2-stage implant) or left uncovered (1-stage implant) depending on your bone quality.
An assessment will also be made prior to surgery to assess your suitability for immediate placement of permanent teeth.
After the healing phase, if the dental implant was left covered, the dental surgeon would now uncover it.
STEP 3: RESTORATIVE PHASE
The restorative dentist will then complete this phase by fixing a prosthetic restoration to the osseointegrated dental implant.
Benefits Of Dental Implants
Dental implants offers scientifically proven benefits:
With tooth loss and dental use, your jawbone will start shrinking. Your jawbone can be preserved with dental implants

A permanent option for teeth replacement

Highly reliable with good long-term success rate

Dental implant never decays

Regain proper chewing function

Restore appearance, self-confidence and self-esteem

Reduce visible ageing
Get Your Dental Appointment Today
And a new, improved smile
Other Dentistry Services